Sunday, January 23, 2011
Posted by

Sew Moni
at 9:12 PM
comments :

0

Friday, January 14, 2011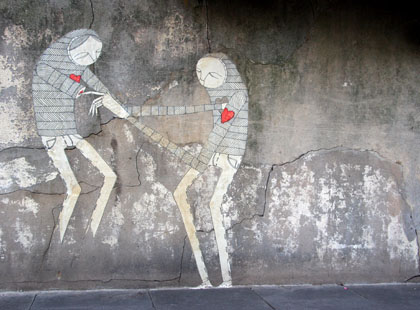 It is freezing cold in Brooklyn and it's not letting up, not even a degree. We've been working hard at our store that will be opening soon (hooray!) and thanks to Katie's space heater, we are keeping warm at the same time. It's only been a year and a half since we started this company and I can't believe that we are opening our first store front? I'm a bit in shock and well, shock. I suppose I typically set myself up not to get my hopes up. And, it's funny to note this because I LOVE getting my hopes up. Hope makes me wake up in the AM and puts me to sleep. It inspires me to keep creating and push harder. It kicks me in the behind to think smarter and keeps the tears back when all seems blue. It's also comforting like a friend or lover too.
Here's to HOPE tonight. Thank you! Keep coming and I hope it gets warm sooner than later. XO Moni L. Briones
Posted by

Sew Moni
at 8:38 PM
comments :

0

Thursday, January 6, 2011
Be the first to sign-up for sewing classes this January and February! We are offering our most popular courses:
Beginning Sewing
and
Beginning Dress Construction
with locations in Brooklyn and Manhattan.
Take part in learning the art of sewing and developing your creativity. Check out one of our students and what her experience was like learning to sew:
"November's Sewing Talk with Erin Hefner"
Hope to see you in class!
-Katie
Posted by

Sew Moni
at 4:57 AM
comments :

0

Labels: beginning sewing, Brooklyn, classes, clothing construction, Creating, education, Ft. Greene, group sewing, sew, sew MONI, Sewing, sewing classes, sewing tutorial